Wig Buying Guide
This guide has been developed to help step you through the wig buying process. You can join our help4hairloss Facebook group and other online communities to get answers, and don't forget to check with your private health insurer to see if your wig costs are covered.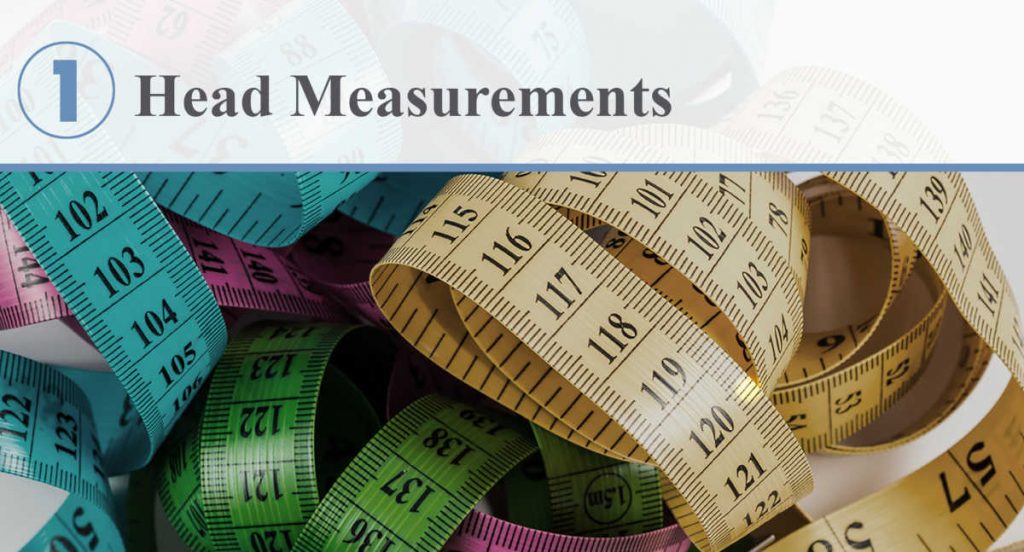 Wigs generally come in three sizes: Petite (Small), Average, and Large.
Use a dressmaker tape to measure your head. For accurate measurements ensure the tape measure is snug, but not tight, when taking the measurements.
Circumference
Using your hairline as a guide, start from the front of your forehead and take the tape behind the ear and around to the other ear to meet back at the front of your forehead (see above diagram as a guide).
Front to Back
Place the beginning of the tape at the center of your forehead at your hairline and measure back to the nape of your neck where your hairline ends (see above diagram as a guide).
We ask all our clients to keep a clipping of their hair so we can send it to our suppliers to calibrate and match when creating custom wigs.
If you are still unsure you can book a free online consultation or come in for more help
Choosing a wig there are various hair type options – Human hair or Synthetic hair, hair density, and length. The choice comes down to cost and maintenance for your wigs.
Human vs Synthetic
Human hair wigs are constructed using hair harvested from various sources throughout the world, India and China are the most popular places for human hair. Synthetic wigs are constructed from man-made fibers and engineered to give the overall appearance and look of real hair.
Human Hair
Human hair wigs afford the same stying versatility of real hair, both a pro and con for human hair wigs.
Human hair wigs require more maintenance than synthetics and can get dry and brittle due to the lack of oils that the scalp naturally gives to hair.
Human hair wigs, like real hair, require constant styling, and will be affected by rain or humidity.
Human hair wigs are significantly more expensive than synthetics as well.
Human hair wigs typically last for 1 year or more (with proper care).
Synthetic Hair
Today there are many high-quality synthetic wigs that look indistinguishable from human hair wigs.
Synthetic wigs retain their shape and require little styling (great for when you are on the go).
Synthetic wigs need extra attention when using heating tools, you can run the risk of burning them and permanently damaging the fibres if you overheat the wigs.
Synthetic wigs are cheaper than human hair wigs – a bonus if you like to swap out your wigs regularly.
Synthetic wigs typically last from 6-12 months (with proper care).
Hair Density
Hair density is how much hair is used on the wig cap and can also be called hair thickness. For a more natural look it is important to consider a hair density similar to your own. We generally recommend between 120% to 130% hair density for our customers.
100% Light
Wig constructed with light density at the hairline and a lot lighter to wear than other wigs.
120% Medium
Wig constructed with medium density at the hairline, and the most common density used for wigs.
130% Medium/Heavy
Wig constructed with medium/heavy density at the hairline and will give a full voluminous look.
150% Heavy
Wig constructed with heavy density at the hairline and is for people desiring a very full style.
180% Extra Heavy
Wig constructed with the heavies density at the hairline and is typically very heavy.
Hair Length
Our private collection hair is single-drawn Remy hair (ends are left natural), which means your hair may include an extra 1-2 inches of length. This is perfect for trimming to straighten up the ends of your hair without losing any of the length you wanted. Hair length range from 10" (25.4cm) to 26" (66.04cm) from the wig cap to the end. All curly and wavy hair is measured when pulled straight so you will lose length if you choose either of these options.
Want more in-depth information about Human and Synthetic wigs? See Synthetic vs Human Hair.
The kind of cap you want for your wig is also an important part of the process, from traditional caps with wefts machined to the cap, to monofilament and hand-tied caps, where hair is individually tied to a soft mesh base – a more expensive, more natural looking option.
Full Lace Wig
Also known as 100% hand-tied wigs.
The most expensive option as each individual hair on the entire cap is hand-tied to create the most natural look possible.
With each hair strand hand-knotted onto a mesh cap there is no machines involved in this bespoke, handcrafted style which can take weeks for completion of a single wig.
These wigs are lightweight and are best for complete hair loss and sensitive scalps, however, they need to be cared for gently due to the lightweight materials used.
Being handmade, these are the best quality wigs available and are the most versatile for part-lines and hairdo's.
Over time, hair will come loose and individual hairs may need to be re-secured to the lace. The lace is also delicate and if not handled gently tears and rips may occur, requiring repair work.
360º Lace Wig
Half machine made and half hand-tied wigs.
Designed with sheer lace completely around the hairline and attached to a circle of wig cap, giving the impression the wig is growing from the scalp.
A perfect wig for up-do's and easy to wear due to the stretch of the lace.
As this wig is not 100% hand-tied, it is more secure and wearable than the Full Lace Wig.
Like Full Lace Wigs, the caps can start to get a little lose, hairs and the lace can take damage, requiring professional repair work.
Lace Front Wig
One of the most natural looking wig cap constructions available.
These wigs are half machine and half hand-tied, with the temple-to-temple region made of lace, enabling easy styling of hair parts.
With an undetectable sheer lace front to the wig, a natural hairline is created, also allowing styling around the face without worrying about wig edge visibility.
Most Lace Front Wigs are pre-styled and ready to wear.
As with all wigs with hand-tied lace sections, there will be wear and tear over time, and professional repair work will be required to fix tears, rips, and loose hairs.
Lace Wig
These wigs consist of partially hand-tied lace sections, usually around the crown and part-line only, with the rest of the wig machined tied.
Lace wigs provide a natural part-line and is a comfortable wig to wear.
Though there is some versatility in the lace area of the wig, it can't be parted in any other areas of the wig, limiting your part-line area.
Traditional (cap) Weft Wig
Traditional Weft Caps are also known as; Basic Wig Caps, Open Weft Caps, Standard Caps, and Classic Caps.
The hair for these caps are machine sewed into strips of material (typically – cotton, felt, and velvet, silk), and wefted together to create the appearance of natural hair growing in different directions.
Open Weft Wig Caps are less dense with more spaces between, perfect for keeping the head cool, and much lighter to wear.
These wigs are the least expensive cap types and are the most durable as well.
Though these wigs are a cheaper option they lack versatility for styling like the other wig caps available.
Because the wefts are sewn together, they won't loosen up over time, meaning less repair work is required.
Want more in-depth information about Wig construction? See Wig Construction.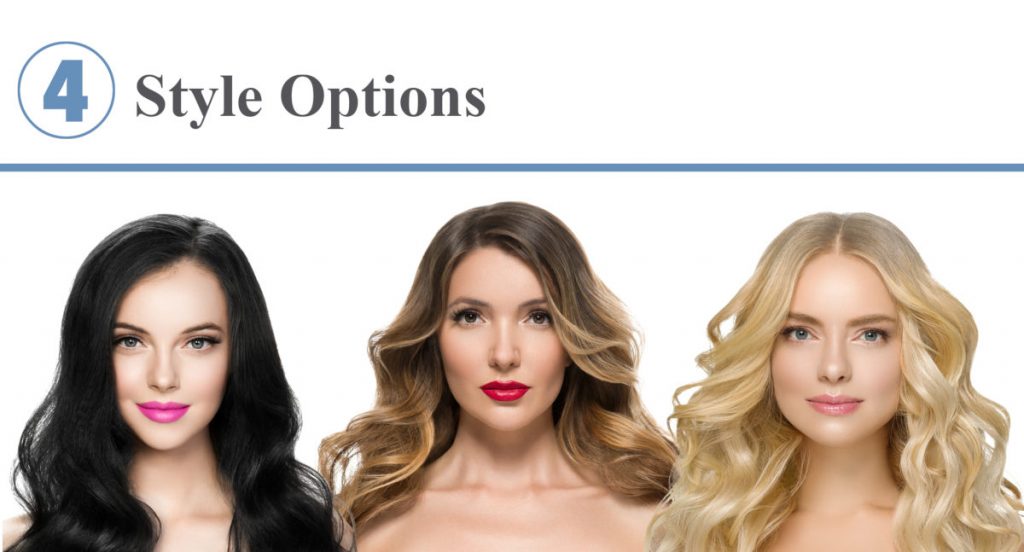 Now you have the technical details of your wig sorted, it's time to decide on the fun part – long, short, bob, shag, layers! It is always a good rule of thumb to select something similar in style to your own hair for your first wig. It is also important to consider your face shape when you are choosing a hairstyle.
Once you are more familiar with the world of wigs it's time to get adventurous and try that style you always wanted. When you buy one of our custom wigs our hair specialists can colour the wig to suit your needs.
Want more in-depth information about Style Options See Wig Styling.
The last detail is the colour of your wig, again if this is your first time, we suggest a colour close to your own, this is where that swatch of hair will come in handy, so we can send it to our suppliers to get an accurate match for colour and texture of the hair. We recommend customers take advantage of our free online/in-store consultation with our hair experts to help select the best colour match. If you are browsing any hair collections online, please bring copies/screenshots to your consultation so we can best match to the ideal colour you are looking for. If you are concerned about the depth of colour in a wig it is always recommended to go one to two shades lighter.
When purchasing one of our custom wigs we include one standard colour of any shade of your choice, if you are after multi-tones additional costs are incurred.
Want more in-depth information about Style Options See Selecting a Wig Colour.