Wig Construction
The kind of cap you want for your wig is also an important part of the process, from traditional caps with wefts machined to the cap, to monofilament and hand-tied caps, where hair is individually tied to a soft mesh base – a more expensive, more natural looking option. See the below image for a visual guide to different wig cap types. The table below will give a more detailed description of each wig cap available.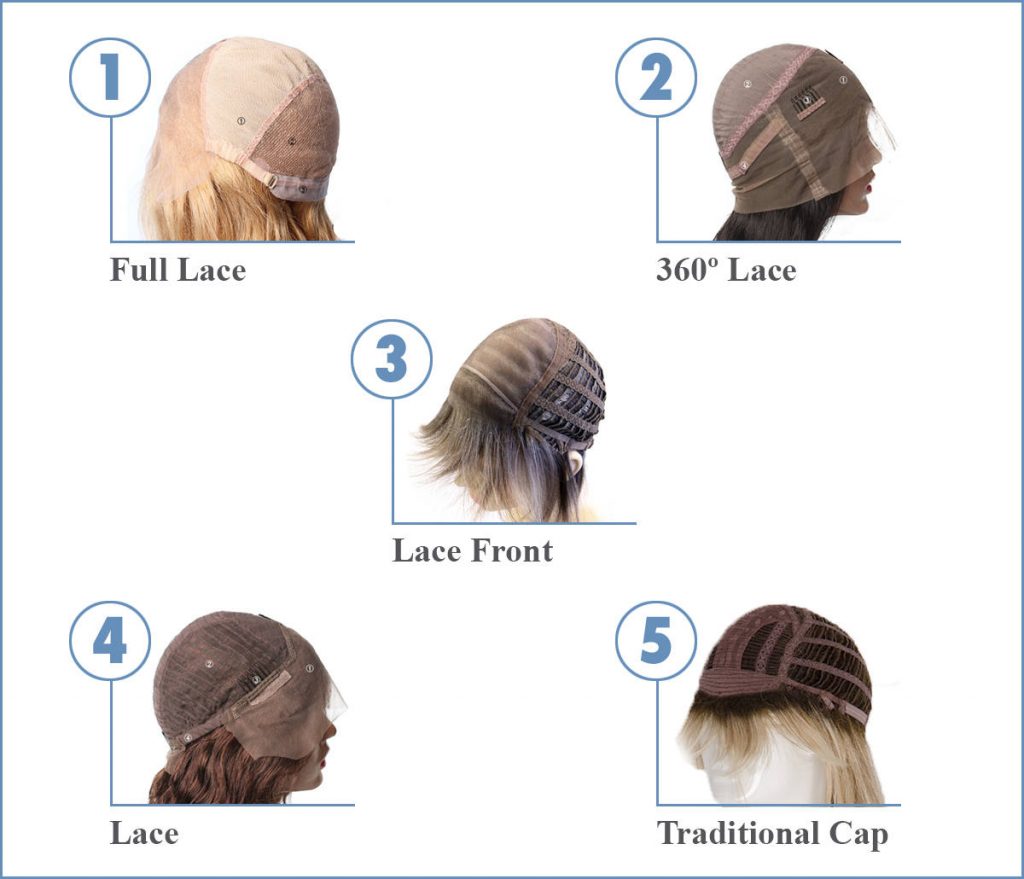 Full Lace Wig
Also known as 100% hand-tied wigs.
The most expensive option as each individual hair on the entire cap is hand-tied to create the most natural look possible.
With each hair strand hand-knotted onto a mesh cap there is no machines involved in this bespoke, handcrafted style which can take weeks for completion of a single wig.
These wigs are lightweight and are best for complete hair loss and sensitive scalps, however, they need to be cared for gently due to the lightweight materials used.
Being handmade, these are the best quality wigs available and are the most versatile for part-lines and hairdo's.
Over time, hair will come loose and individual hairs may need to be re-secured to the lace. The lace is also delicate and if not handled gently tears and rips may occur, requiring repair work.
360º Lace Wig
Half machine made and half hand-tied wigs.
Designed with sheer lace completely around the hairline and attached to a circle of wig cap, giving the impression the wig is growing from the scalp.
A perfect wig for up-do's and easy to wear due to the stretch of the lace.
As this wig is not 100% hand-tied, it is more secure and wearable than the Full Lace Wig.
Like Full Lace Wigs, the caps can start to get a little lose, hairs and the lace can take damage, requiring professional repair work.
Lace Front Wig
One of the most natural looking wig cap constructions available.
These wigs are half machine and half hand-tied, with the temple-to-temple region made of lace, enabling easy styling of hair parts.
With an undetectable sheer lace front to the wig, a natural hairline is created, also allowing styling around the face without worrying about wig edge visibility.
Most Lace Front Wigs are pre-styled and ready to wear.
As with all wigs with hand-tied lace sections, there will be wear and tear over time, and professional repair work will be required to fix tears, rips, and loose hairs.
Lace Wig
These wigs consist of partially hand-tied lace sections, usually around the crown and part-line only, with the rest of the wig machined tied.
Lace wigs provide a natural part-line and is a comfortable wig to wear.
Though there is some versatility in the lace area of the wig, it can't be parted in any other areas of the wig, limiting your part-line area.
Traditional (cap) Weft Wig
Traditional Weft Caps are also known as; Basic Wig Caps, Open Weft Caps, Standard Caps, and Classic Caps.
The hair for these caps are machine sewed into strips of material (typically – cotton, felt, and velvet, silk), and wefted together to create the appearance of natural hair growing in different directions.
Open Weft Wig Caps are less dense with more spaces between, perfect for keeping the head cool, and much lighter to wear.
These wigs are the least expensive cap types and are the most durable as well.
Though these wigs are a cheaper option they lack versatility for styling like the other wig caps available.
Because the wefts are sewn together, they won't loosen up over time, meaning less repair work is required.