Wig Styling
When selecting a wig, it is vital to get one that works with your face shape to really get the best wig possible. You can use a few different methods to determine your face shape. Please be aware that sometimes you may fall between face shapes – that's ok, it means you may be able to wear more hairstyles:
Mirror Method: Stand in front of a mirror and use lipstick or soap to trace the outline of your face on the mirror. Compare it to the chart below and see which face shape is your best match.
Tracing Method: Trace the outline of your face using a photo and compare that to the chart below to see which face shape matches.
Measuring Method:

Use a measuring tape/ruler and
measure across the tops of your cheekbones
measure across your jawline from widest point to widest point
measure the top of hairline to bottom of chin
compare these measurements to the chart below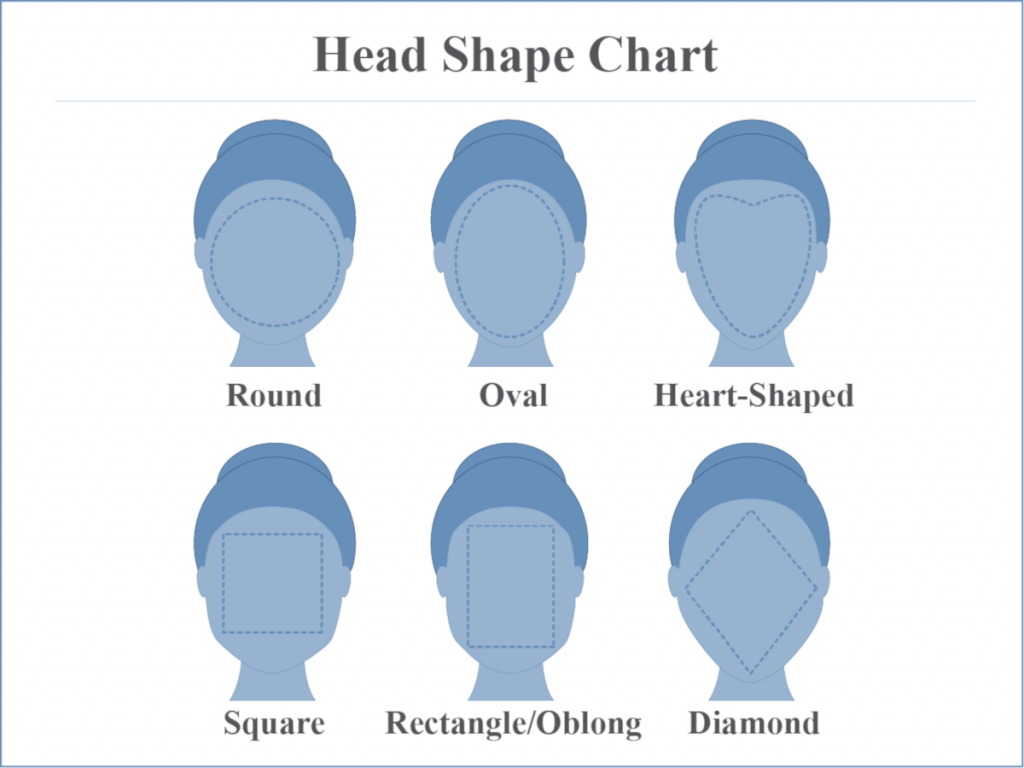 Round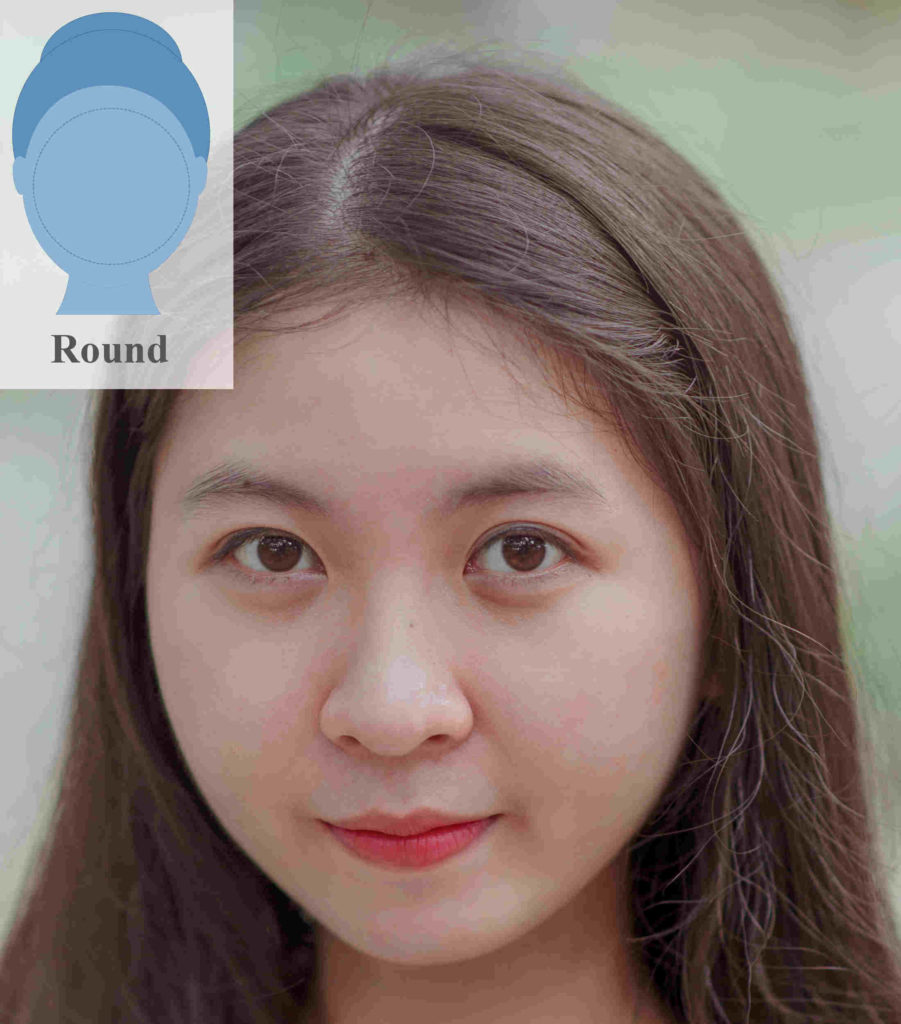 Type: Round faces measure approximately twice as wide as they are long, with a round chin and hairline and the widest point at the cheeks and ears.
Best Choices: Choose styles adding fullness and height at the crown, with a off-centre part. Short styles with a swept back direction and styles longer than chin length are a great option. Styles with layers at the top with the rest of the hair close to the face will give the illusion of a longer, narrower appearance.
Avoid: Chin-length hair with rounded lines hugging the face, centre parts, and cropped styles. Any rounded styles ending at the chin will add fullness to the widest part of your face making it appear larger.
Oval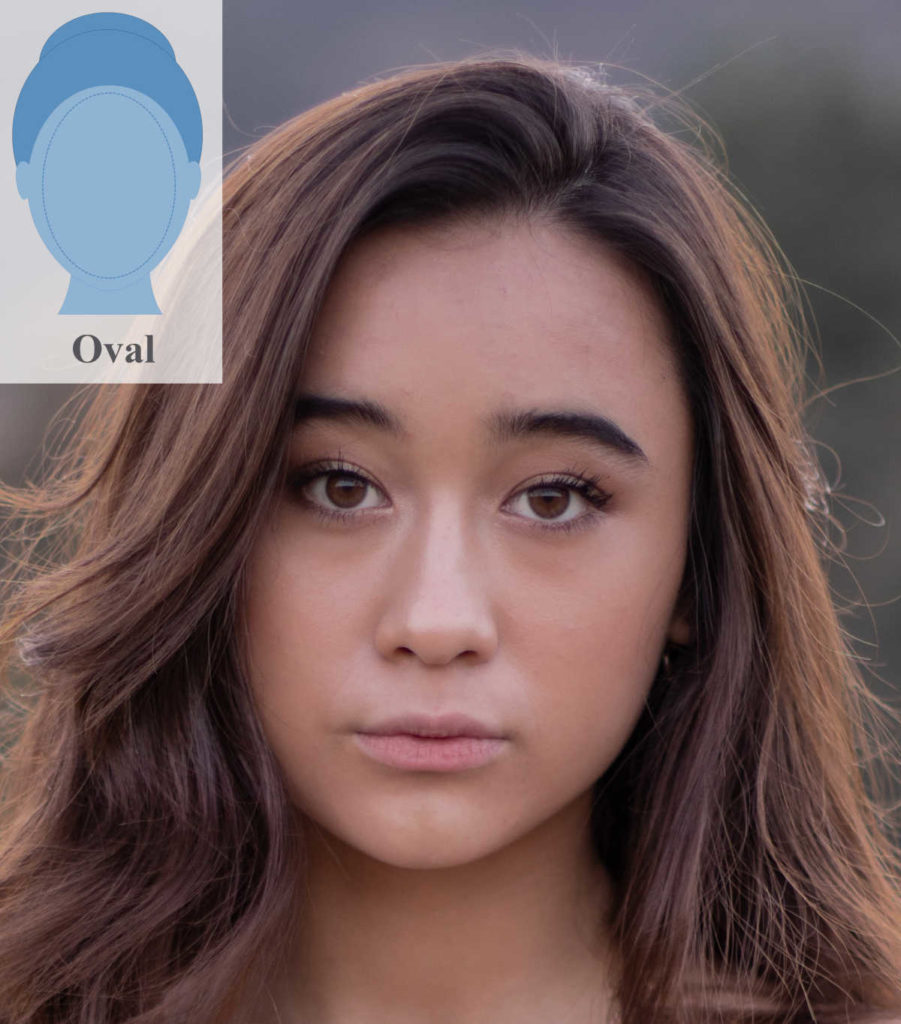 Type: Oval faces measure length approximately 1.5 times the width, with a face only slightly narrower at the jawline than at the temples and a gently rounded hairline.
Best Choices: Oval faces can wear almost any styles. The best styles are off the face to accentuate the face shape.
Avoid: Heavy bangs or lots of forward direction which will add weight to the face.
Heart-Shaped
Type: Heart-shaped faces measure narrow at the jawline and wide at the cheekbones and/or forehead with the face appearing wide at the temples and hairline, narrowing to a small delicate chin.
Best Choices: Chin-length and longer styles, side-parted, swept forward layers to the upper face, and gently wispy bangs. Chin-length bobs create balance giving fullness where needed. Shorter styles can be worn but make sure there is enough weight in the back-nape area to provide overall balance.
Avoid: Short and full styles with tapered necklines as they emphasise the upper face creating a top-heavy look, too much weight will give the appearance of a longer, narrower chin.
Square
Type: Square faces measure approximately as wide as long, with a strong, square jawline and hairline.
Best Choices: Short to medium styles with waves and roundness around the face, wispy bangs, off-centre parts and height at the crown. These will soften the square look and help elongate the shape. Curls and waves will help create more balance too.
Avoid: Straight bangs, linear lines, centre parts and styles that are long and straight. These will pull your face down making it look longer.
Rectangle/Oblong
Type: Rectangle/Oblong faces measure longer than wide, with approximately the same width at forehead and just below the cheekbones, including either a very narrow chin or very high forehead making the face appear long and slender.
Best Choices: Short or medium length styles will minimise the face length, layers add softness, and side-parts will minimise the geometric shape. Fullness at the sides will add width and more shape.
Avoid: long styles will make the face look longer and centre parts.
Diamond
Type: Diamond faces measure widest at cheekbones with a narrow forehead, both forehead and jawline are approximately equal in width, this face shape is a cross-between heart and oval.
Best Choices: Like oval faces almost everything works well with this face shape. Dramatic diamond shapes should choose short styles with weight in the nape area to achieve balance between dramatic cheekbones and the delicate chin areal.
Avoid: This face shape can wear almost anything, wearing styles with lots of hair around the face will hide the great features.