TOP TIPS FOR CHOOSING THE BEST Hair WIG FOR HAIR LOSS
Hair loss is something that's experienced by a large portion of our population. Sometimes we can have the answers why we experience hair loss, however in a lot of cases, there is no idea what causes hair loss. An Australia wig specialist is going to be your best friend when finding your hair wig or hair topper, especially if you are looking for a hair wig online.
Over 400 hair loss clients sharing their experiences and insights into how wigs feel on their heads has certainly provided our beautiful in house Wig Developer Sharryn Sinclair with a bit of an edge when it comes to what hair wig or hair topper will work best for hair loss.

Sharryn shares her top tips for choosing your best hair wig for hair loss in this blog and even gives a little look into her personal recommendations.
Above all else, the hair wig needs to fit well.
This is arguably the hardest part of choosing the best wig for hair loss. In her experience Sharryn has discovered that a lot of the hair wigs you buy online are too big and will gape a little at the neck area. Realistically, the only way you are going to find out if a wig fits well on your head, is to try it on and wear it for a little while. Petite sized caps are sometimes hard to find, however they do exist and you will find some wig companies (Australian Wig Company included) will specialise in having a wide range in their inventory. By consulting with an Australia Wig Specialist, you are one step closer to finding out which hair wig will suit what you're looking for.
Wig Sits Flat
The end result is for our hair wig to look as natural as possible. So a natural looking hair wig for hair loss will sit flat just like your own biological hair would. It is true that generally you do pay for what you get and the lovely hair wigs that sit flat and made with human hair, will have less density and a better structured base.
Natural on Hair Line
You may have hard of the term Lace Front when researching wigs. A big tick if your hair wig has a lace front. This will allow your wig to sit and look more realistic, plus enable off the face styling options.
Comfortable Cap
A hair wig with a stretch cap is the most comfortable to wear, really it's like just wearing a beanie. These beautiful caps offer a snug fit and allow for a very natural looking result. Whatever your choice of cap design, the main objective is that it will cup your head properly.
Hair Density
Going from thinning hair to a hair wig can be overwhelming. You may not be used to the abundance of hair. The best hair wigs for hair loss will have a light (lite) density of hair. Definitely not too wiggy and more like how your own hair would look. Remember seeing yourself with hair again may, take a little time and wearing to get used to.
#1 Human Hair Wig for Hair Loss… and the winner is
BELLA EURO & MIA EURO BY PRIVATE COLLECTION
This design has been developed and crafted personally by Sharryn.  With her insights and research into crafting the ideal snug fitting base. 
Around 80% of our wig clients walk out of our showroom with a Bella Euro or Mia Euro.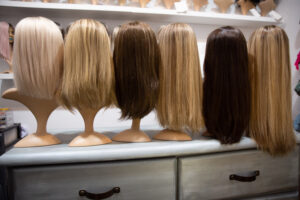 Sits flat

Cut, coloured and shaped to anything you like

Natural on hair line




Silk Skin top

Structure Weft, comfort stretch cap

Cups head properly

Several cap sizes and lengths
Premium quality European Human Hair
RUNNERS UP…
Light hair density, natural looking front hairline, 100% hand tied cap.  
Lovely relaxed/casual styling. 
 Very easy to wear as an everyday option.
Comes in Average and Petite sized caps
Long hair in a 100% hand tied cap, natural looking front line, Light hair density option.  Comes in Large, Average & Petite cap sizes.
BEST SYNTHETIC WIGS FOR HAIR LOSS
For ladies with budget restrictions or just like to have pre-styled wigs that they can pop on, knowing the styling will be perfect every time.  Synthetics offer a great option.  Please click on each style name to find out more about what each style offers.