Depending on how often you wear your wig and the fibre it's made of your Lace Front Wig can last up to 1+ years. With a proper maintenance and styling routine human hair and human hair blends can last that long. For a synthetic lace front wig, (with a good maintenance/care regime), you can expect a lifespan of around six months and depending on the how much you wear your wig a heat-friendly synthetic wig lasts up to 3-4 months. The length of your synthetic wig will also have a bearing on the lifespan… long synthetic wigs will have a shortened life span when compared to short synthetic wigs.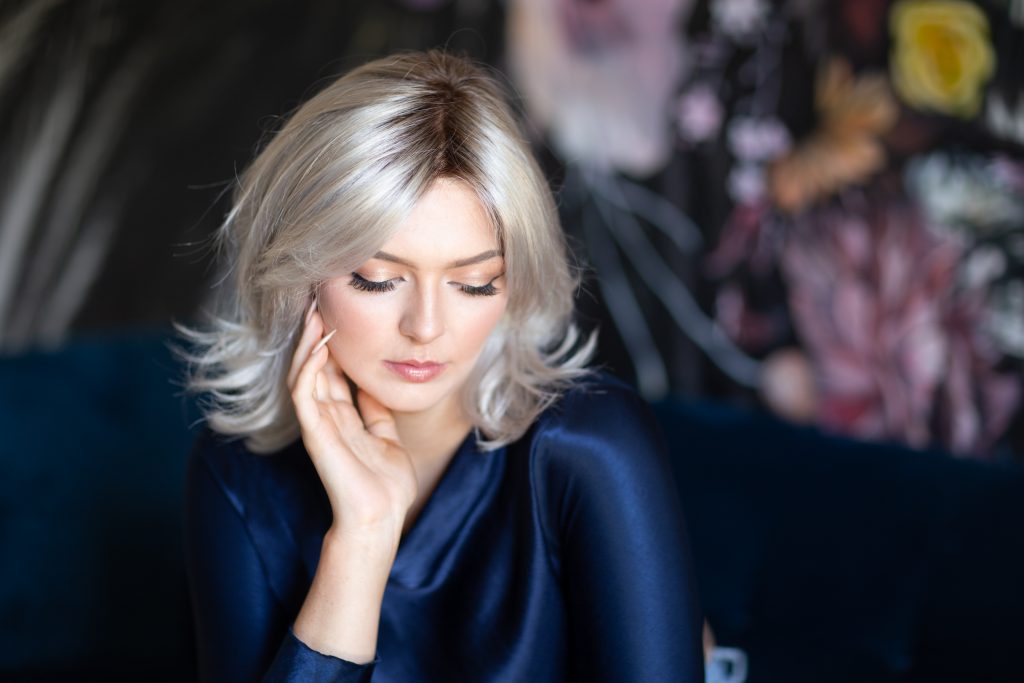 Why a Lace Front
There's no other wig feature that will give you that real-looking hairline like a lace front wig will. The lace material is designed to lie flat and blend in with your skin. Hair/Fibres are hand-knotted into a sheer lace material that lays along the forehead giving the illusion the hairs are growing from your own scalp.
Lace Front Wig Care
There's a few things you can do to give your Lace Front wig the best opportunity to have a long lifespan. Wash and style your wig well, make sure your wig fits you properly, store the wig right when not wearing and have a wig rotation.
Proper care for your lace front wig is essential to maintaining your wig. We recommend a wash your wig every 8-10 wears using wig recommended products.
A couple of tips we'd like to share:
Avoid applying any conditioner or sprays near the lace front area, you can inadvertently loosen the hand-knotted hair and cause fibre loss by applying products directly onto the lace.
Carefully brush out any knots before you commence any wig care
Use Simply Styling spray when you're styling the wig
Once you've finished wearing or you've just washed and styled your wig, the way you store your wig can be a big factor on it's lifespan too. A wardrobe or store room are excellent options… avoid direct sunlight and having the wigs stored anywhere there is a thoroughfare for children or pets. To keep the shape of your wig we definitely recommend having it on a wig stand or mannequin head.
It's an obvious tip, but one of the best ways to extend the life of your lace front wigs is to have twins! By having a couple of wigs that are identical allows you to rotate between the two and one wig doesn't wear out too quickly. You will always have one wig ready to wear too!
Wig Fit Affects The Longevity
One of the most critical factors in ensuring that your lace front wig lasts throughout its entire lifespan is a correct fit. If your wig is too small, you risk stretching out the delicate lace material and potentially damaging the wig / changing the intended shape of the lace front area. On the other hand when your wig is too big, the lace front area will not lay flat against the forehead, and you won't achieve that seamless look you desire, sometimes rendering the wig undesirable to wear.
Sitting Correctly
We have a quick final tip for Lace Front Wigs…
If by wearing your lace front you have found that you experience any itching in the area where the lace is, it simply points to the lace not sitting right. For your lace front to be comfortable there's a couple of things you can do. When you wash your wig and set it for drying, make sure the lace is sitting down flat so it dries where it will sit on your own forehead. As you place the wig on, double check that the lace area is not buckled anywhere and is all sitting flat to your forehead. We recommending applying a wig tape (recommended by your supplier )if your lace continues to sit up.