How does a wig stay on …. is there any way I can make sure it won't move when I put it on?
A very common question when it comes to wearing a wig, especially if you're new to wearable hair solutions. Yes a wig can be a sure thing to stay on and there are additional ways to provide you with a little extra security and confidence for your wig wearing experiences.
Let's start this blog with the most important note though! Always ensure you use a silicone spray and comb using a wide tooth comb when you style your wigs. We highly recommend Simpy Stylin as the preferred one to use … simply spritz your wig each time you have styled it. This will ensure your wig looks it's best and helps to prolong it's lifetime.
So first and foremost, buy a wig that will fit your head properly… maybe refer to our blog about how you measure your head for a wig to find out which cap size will be the best one for you.. keep in mind most of the time wigs can be on the larger size when purchased online. If you're wanting a wig that fits perfectly and doesn't require any extra help staying on we highly recommend the Full Stretch Hand Tied Caps… and although they will attract a little more of an investment, they are definitely worth the level of comfort and security they offer.
Adjust the wig itself to fit your head. You'll find on a lot of wigs there are adjustable straps. This is an important first step for fitting your wig to suit your head, so go ahead and adjust these to suit.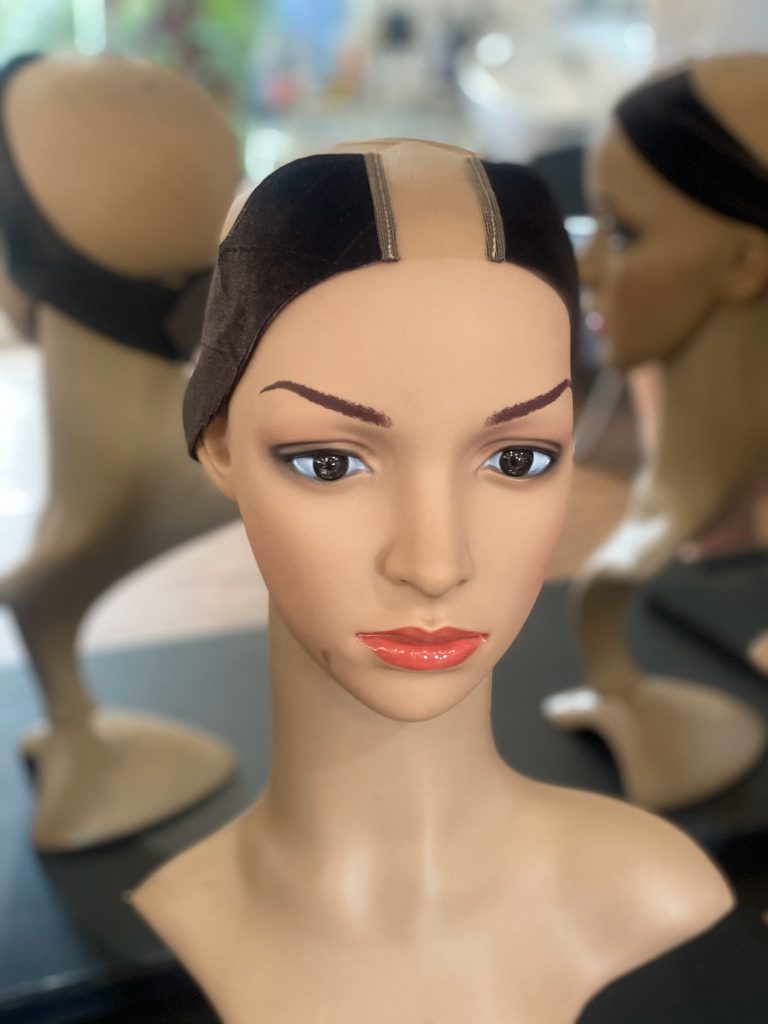 WIG GRIPPER – Velour or Silicone. The velour gripper shown above offers a velvet band that worn the correct way will ensure your wig is held into place perfectly. A silicone gripper, (obviously made with silicone) is the best for a smooth scalp and will grip both your scalp and the wig.
ALWAYS PLACE THE VELOUR GRIPPER WITH THE ROUGH WAY GOING AWAY FROM YOUR FACE AND LINE THE SEE THROUGH MESH WITH YOUR PART FOR A COMPLETELY NATURAL RESULT.
WIG CLIPS/BOBBY PINS
You'll need a little bit of biological hair for either of these clips to work (at least 1″ in length). Wig Clips are sewn in to your wig and are a great way to add that extra confidence for you as the wig is attached to your own hair for extra security. Same with bobby pins.. a lot of people find bobby pins just provide enough security and confidence for them.
MEDICAL GRADE WIG TAPE
Ideal to secure the wig or hair for him system into place. Wig tape is a strong double sided adhesive tape that will be act as a bonding agent between your scalp and your wearable hair. Not suitable to use on hair … so be sure to only adhere to your scalp.
Interested to find out more about how to ensure your wig will stay on? Maybe you'd like to check out our Ebook… click here to grab yours… it's jam packed with information on the best ways to keep your wig on.