We see 30-40 ladies per week and human hair toppers are the most popular and perfect choice for most of our lovely clients.
Losing your hair is never an easy thing, however it doesn't mean you lose your identity or your confidence and all you need is love and a little help with a topper to revive your look again. There's a vast array of toppers available and we have a huge array of different options available here on the website… so how do you choose which is right for you? Well, we thought we'd run through the top four and the reasons why we love them.
When we're recommending a topper we're looking for the one that's going to be the most comfortable, have the right hair density and sit the best on a client's head. Sitting flat on your head is an optimum result and will be key to the integration of the topper with your own biological hair. On the subject of seamless integration, our styling team here at the Perth Wig Specialist showroom ensure that all of our online and in person ladies have their new beautiful topper customised to suit their own biological hair. So our expert colourists will colour match and a topper is trimmed in to suit every time a client requires a little extra customisation for their perfect result.
Let's get started! Number 1 on our list is the
ERGONOMIC TOPPER by Private Collection
This topper may look a little weird on the base, but wow is it comfortable to wear and the base shape allows for the volume to sit where it we all love to have volume … at the crown. So rather than relying on the clips to keep the topper in place, the ergonomic hugs your head (bit like a Jewish cap) and then the four clips are there to add a little extra support. The base is thin and you won't even feel that you're wearing anything with this topper! Low density also adds to the appeal… no overwhelming hair here.. it all looks like your own biological hair would look! We've featured a customised version of the topper here… a fringe has been cut in and the topper curled… you can style these exactly as you would your own hair! Extra clips can be added or clips taken away as required too.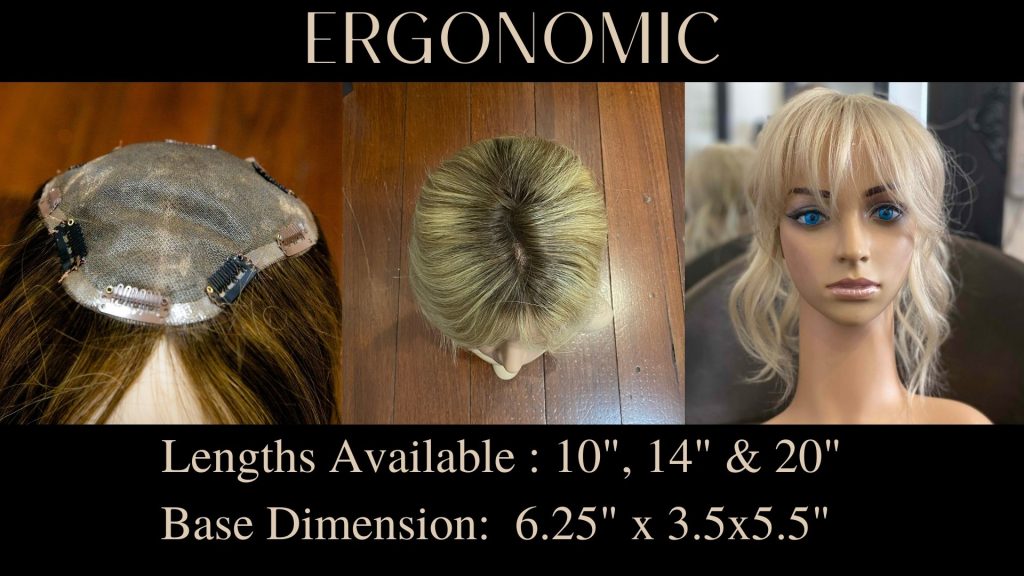 EasiPart is the smallest and most narrow of the toppers we recommend. The topper is super light weight and low hair density. Suitable for the first stages of hair loss the EasiPart sits just over the area of most concern… usually the part (hence the name!).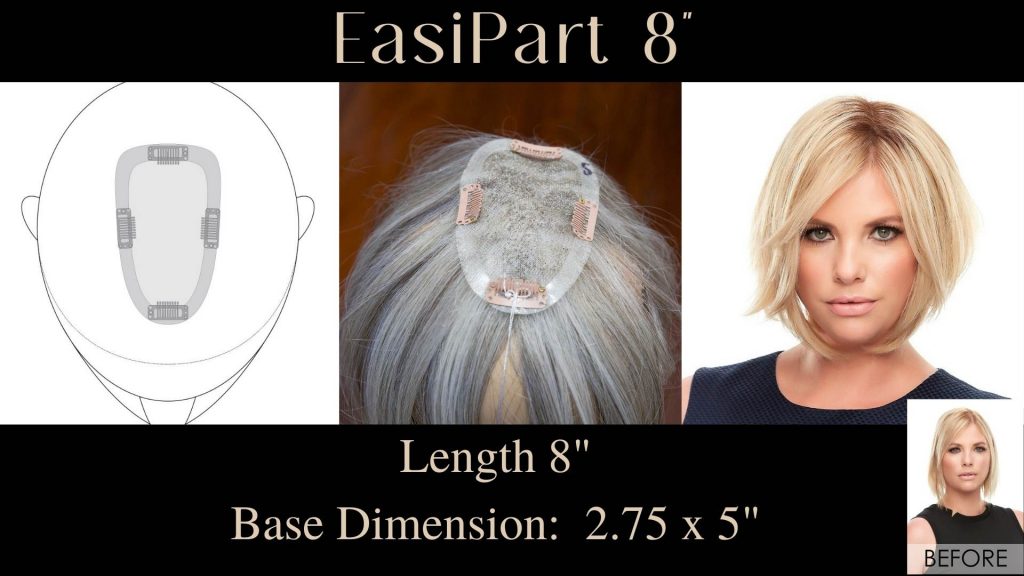 We love the French tied cap constructions and on this EasiPart, you have the beautiful hidden knot construction which allows the most natural looking result possible! Definitely worth the little extra investment as the base is silk and very comfortable against your skin. Beautiful Remy human hair is hand tied to a double monofilament base using French knotting, a luxury technique that hides and protects the knots for an undetectable look and feel. Constructed on a larger base than easiPart French 8", this topper provides extra coverage and volume for the beginning stage of hair loss.
Charlie Topper by Private Collection
We don't like to brag, however this is sublimely comfortable and is suitable for all stages of hair loss. The Charlie Topper is something that once you've experienced, you won't go back !! The base structure on the Charlie topper optimises air flow while remaining super comfortable to wear… the shape allows the topper to sit and form beautifully to your head shape with the clips just a little extra security rather than being the main way of putting the topper on. For our ladies who have extremely thin hair growth or severe hair loss, the Charlie Topper is life-changing. With the Charlie Topper (as with all our toppers) we have have the added option of customising to suit in length and colour for our clients regardless of whether our client is an online consultation or in person consultation.
Lengths : Generally the 8″ from Jon Renau is designed to add volume but not too much length and is great for shorter and tapered hair lengths. The 10 or 12″ lengths are for bob lengths and the 16″, 18″ inches have length for mid to longer hair styling. Sometimes we use a combination of a topper with human hair extension work for clients this method works well for, as opposed to a full wig, this can add volume to the top and create volume throughout the hair.
Let's run through the most popular human hair toppers and the reasons why they are so popular!